"TURBO BUDGET FOR WINDOWS IS THE MOST INTUITIVE, EASY TO LEARN SOFTWARE AVAILABLE IN THE INDUSTRY. VIRTUALLY NO LEARNING CURVE. TRUE PLUG-AND-PLAY." DOC COLLINS, Independent Line Producer
---
"I was always pleased with the technical support. Always there when I needed them."
Steve Bobek, Sony Pictures, Features Estimating.
---
"Put this date on your calendar. Budgeting will never be the same again."
Allen Taylor, production accountant Warner Bros. feature "Contact"
---
Designed for:
Feature Film Producer
Production Manager
Budget Estimator
Television Production
Video Production
Multi Media Production
---
Designed for the Producer, Production Manager, or Budget Estimator who wants a full featured, easy to use, powerhouse product at an affordable price.

Navigation
Easy, intuitive ways to move around budget levels, or from one account to another. Use the mouse or Hot Keys to instantly go anywhere in the budget. Search for text throughout budget, or within a sub account. Search for lines which are converted by currency or which use certain codes.

Editing
Cut and Paste data fields using the clipboard. Cut and Paste using the Paste Up Panels. Cut and paste one or more selected lines. Cut and paste entire sub accounts. Cut and paste entire accounts. Drag and Drop a line. Drag and Copy a line. Globally edit text in budget or just a sub account. Globally delete lines based on text in the line; on currency conversion, or coding of line.

Fringes, Taxes, Crew Meals, Overtime
Labor costs often also carry union fringes, payroll taxes, meal costs, etc. with them. This can be one of the most time consuming aspects of budgeting, which is completely automated in TBW. With capacity for 400 codes TBW power to automate a budget is unmatched.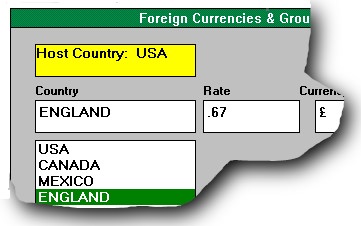 Multicurrency Budgets
Line Suppression
You can enter costs into a single budget in several currencies, easily and quickly adjust the conversion rate and printout the budgets in a variety of formats for both domestic and foreign distribution. Lines can be grouped and suppressed or printed at will. For example, you can include/exclude costs for a given locale.
And lots more....
Program includes seven budget forms, including AICP, a studio budget pro forma (with rates). Design your own form (up to 1,000 lines of detail). Worksheets, with totals automatically posted into accounts; built in calculator for editing as you enter data; 4th column data entry - allows you to enter products of hourly rates and weekly straight time hours; print through Windows print driver, i.e., supports all available fonts; and many many more features.
"Its great to have a budgeting program which fully utilizes the Windows environment."
---
"..congratulations on a job well done. Turbo Budget Studio Edition is a superb product."
Phil Rodak, Director Budgeting, Theatrical Productions, Warner Bros. (9-15-95)
The Professional Edition with additional capabilities which enable the exchange of data with spread sheets, relational database programs, and location accounting software. Provides controls to manage multiple users working on a shared database of budgets and allows comparisons between budgets in different files. With the powerful Modify command make global changes to column data for selected sets of lines, e.g., a 5% pay increase for all IATSE labor. This edition is for the power user or organization which needs these additional features.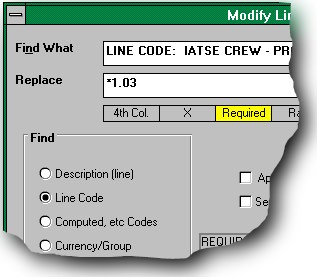 The Studio Edition with additional capabilities which are designed specifically for the person or organization that wants to manage their labor cost estimates in separate data tables. Labor costs (A, B, and C level rates, both local and distant) are maintained for various regions (Los Angeles, New York, Toronto, etc.). When a production is prepared Turbo Budget accesses labor rates directly from the selected tables.

Compatibility
The three versions of the program are completely compatible, which is to say, that a budget created with one is accessible by all the others.